Published time: December 01, 2013 10:09
Thousands of demonstrators chanting 'Revolution!' have flocked into 'Maidan' square in Kiev despite a court-imposed ban on rallies. The protesters have reportedly taken several government buildings.
Follow RT's LIVE UPDATES on protests in Kiev.
Chanting protesters displaced metal barriers that were installed  by police on Independence Square, also known as Maidan (Ukrainian  for "square"), as more are expected to flock into the capital  from the regions. Ukrainian media said that some 700,000 people  have gathered, calling for the Ukrainian government and the  president to resign over rejecting EU association earlier this  week.
The Kiev City State Administration has been vandalized with a  sign saying "Revolution Headquarters."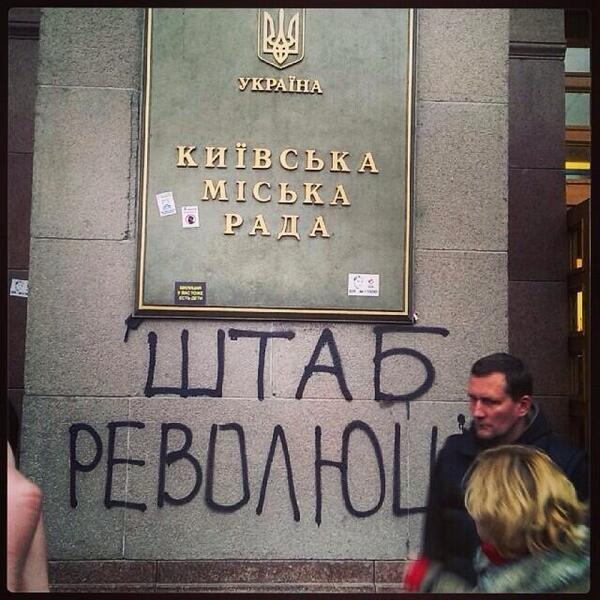 The raging crowd, which split into several columns, also stormed  the Mayor's offices, breaking windows and opening the doors from  the inside, Itar-Tass reports, citing local media.The protesters  set up what they described as the temporary headquarters of the  united opposition. The Trade Union building near 'Maidan' square  has also been taken by the 'provocateurs' bearing emblems of the  opposition parties. Other reports claim that the Ukrainian  Cabinet of Ministers building was stormed.
  Teargas, stun grenades as police clash with protesters at  Ukrainian Presidential HQ
Hundreds gathered at the Ukrainian Presidential Headquarters  compound attempting to storm the building. Riot police arrived at  the scene. As protesters tried to break through police lines,  clashes broke out. Smoke surrounded the compound, amid reports of  gunfire, the sounds of explosions and teargas, according to RIA  Novosti. Live broadcasts showed that security forces were stoned  and firebombed, responding with stun grenades.
Nearly 100 police officers have been injured in the Kiev clashes,  police officials told Interfax. Twenty two protesters have  requested medical help, according to officials.
On Sunday the administrative court in Kiev complied with a suit  from the city mayor's office, prohibiting rallies on two major  city squares until January 7 – including Independence Square –   and three streets in downtown Kiev. That means that until  Orthodox Christmas any kind of demonstration will be illegal and  suppressed by law enforcement.
Read More: http://rt.com/news/ukraine-protests-court-ban-538/
---
---
Categories: Rebellion