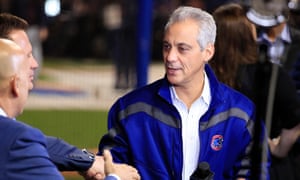 Emails released by WikiLeaks show that Chicago mayor Rahm Emanuel has used personal email accounts and a personal email domain to communicate with government officials and political figures.
The Chicago Tribune reports that Emanuel's personal account information turned up among emails stolen from Hillary Clinton's presidential campaign chairman, John Podesta, and posted by WikiLeaks.
Emanuel, a Democrat and former member of the House of Representatives, was chief of staff in the Obama administration between 2009 and 2010.
He registered his personal email domain, "rahmemail.com", on 16 May 2011, the day he was sworn into office as Chicago mayor. Podesta's hacked emails also turned up evidence of Emanuel's personal Gmail account.
Read More: Rahm Emanuel used personal email domain for government work | US news | The Guardian
---
---
Categories: Misc....