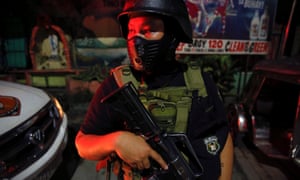 Ties already strained by President Rodrigo Duterte's insults and controversial drug war which has killed thousands of people
The US state department halted the planned sale of 26,000 assault rifles to the Philippines' national police amid concerns about human rights violations there, Senate aides told Reuters on Monday.
Aides said Senator Ben Cardin, the top Democrat on the Senate foreign relations committee, said he would oppose the transaction with the long-time ally of the US.
The relationship between the two countries has been complicated lately by President Rodrigo Duterte's angry reaction to Washington's criticism of his violent and controversial war on drugs.
Duterte said last month that innocent people and children were "collateral damage" in his war on drugs because police use automatic weapons when confronting criminals.
Read More: US halts sale of 26,000 assault rifles to Philippines police amid human rights concerns | World news | The Guardian